1-1.Trend of population and number of fatalities and casualties
The number of children's fatalities is falling year by year; the rate of decrease is higher than that of population
decrease. On the contrary, however, the number of casualties, which had been decreasing in the 1990s, thereafter started increasing, and its upward trend continues. This shows that children's casualties caused by traffic accidents are occurring with a higher frequency.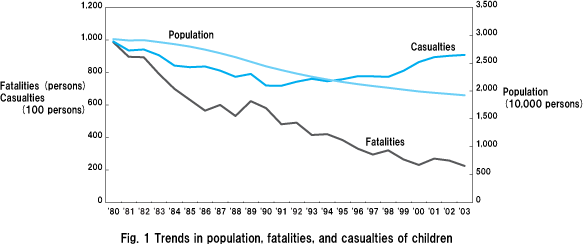 1-2.Casualties by situation
In what situation, then, do children suffer from traffic accidents? Figure 2 shows the number of fatalities and casualties of children in 2003. Preschool-age children constitute the largest number in both cases, but with advancing years, the number decreases.
Approximately 70% of fatalities and 60% of casualties of all children occur while they are riding a bicycle (not as a passenger but as an operator) and while they are walking. The case of preschool-age children, however, differs in that the casualties they suffer as a passenger of a car driven by an adult such as a parent form an extremely higher percentage than the other age groups.
More junior elementary school students were involved in accidents "while walking," with 60% or more of fatalities. The casualties suffered "while walking" and "while riding a bicycle" represent near 40% respectively.
From senior elementary school students to junior high school students, they suffered a fewer number of casualties while walking; on the contrary, they suffered more casualties "while riding a bicycle," This leads to the conclusion that as children get older, they tend to suffer more from road accidents that occur while riding a bicycle.
As examined in the casualties by situation, preschool-age children suffer casualties mostly while in a car as a passenger, while school children do while riding a bicycle or walking. From the next chapter on, we look at the details of accidents that occur "while riding a bicycle" and "while walking," which have been caused by children's judgment and behavior.


Here, we take a look at the features of accidents that occurred while children were riding a bicycle in the data of 2003. In order to compare them with casualties in general, the data of adults (20 years old and older) is posted.
2-1.What kinds of accidents occur most frequently?
Types of accidents
Compared to adults, the rate of head-on collisions is higher for children. Approximately 70% of the cases involving preschool-age children and junior elementary school students are head-on collisions. The percentage decreases with advancing years, while senior elementary school students and junior high school students are more likely to suffer from collisions while turning right/left.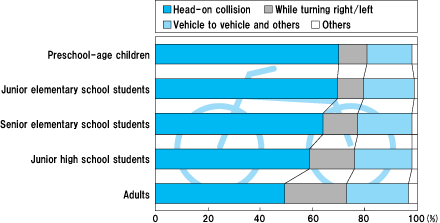 Road configuration
In any age group, about 70% of accidents occur at intersections. Younger children tend to suffer from accidents at intersections without traffic signals. It is generally assumed that without signals they were unable to make the correct decision, resulting in collisions with cars coming from either direction.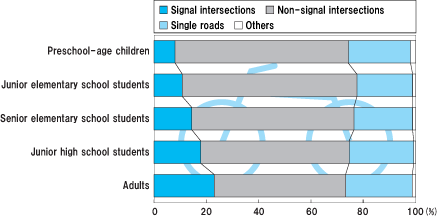 Distance from home
Approximately 50% of preschool-age children and 30% of junior elementary school students met with an accident within a 100-m radius from home. For junior high school students whose proportions differ little from those of the adults' accidents, the ratio of accidents in an area exceeding a 2-km radius from home becomes higher. It is evident that younger children tend to suffer from traffic accidents in the immediate vicinity of home.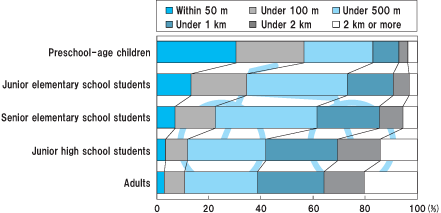 2-2.When do most accidents occur?
Time period of accidents
For preschool-age children and elementary school students, the time between 15:00 and 18:00 after school represents when more than half of all the accidents occur. For junior high school students, accidents most often occur during two time periods: between 7:00 and 9:00 while going to school and between 16:00 and 19:00 after school.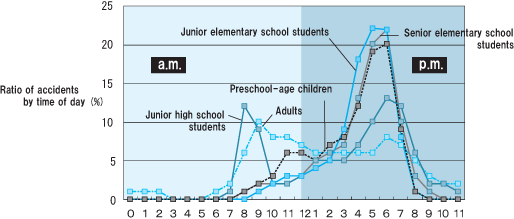 Weekdays, weekends, and holidays
Children tend to meet with an accident more often on weekends and holidays compared to adults. In particular, about 40% of preschool-age children's accidents occurred on days off, when children have more time to move about freely. When they are playing outside, adults should pay close attention to them.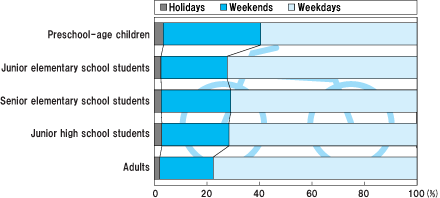 Weather
With advancing years, more children suffer from traffic accidents on rainy days. This may be because many of them commute to school by bicycle. Rainy days are dangerous with bad visibility, particularly when riding a bicycle with an umbrella in hand.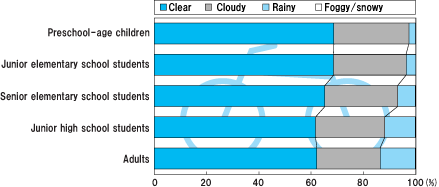 2-3.What did the children do?
Purpose of travel
Preschool-age children's main purposes for travel at the time of an accident are recreation and walking, whereas elementary school students' purposes for travel - making visits and going to lectures - are increasing factors. It seems that school-age children have many more opportunities to commute to take lessons and go to cram schools, and also to visit a friend's house for recreation. Regarding junior high school students, nearly 40% of casualties occur while commuting to or from school.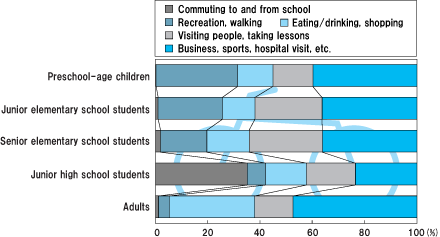 Law violation
Statistics show that the ratio of non-violation is lower for children than for adults. The younger the children are, the higher the ratio of failure to confirm safety factors. We need to teach children how important it is to confirm safety factors and how to confirm them.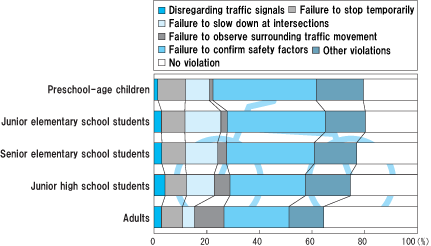 2-4.Specific case examples
It is junior high school students that suffer the highest number of casualties while riding a bicycle. In many cases, generally when commuting to or from school, they failed to either confirm safety factors or to stop temporarily at an intersection with no signals, resulting in a crossing collision with a car coming from the intersecting direction.
Following are some examples.
[Case 1] A boy on a bicycle rides out of the school gate and is involved in a crossing collision with a passenger car.
A boy in the 9th grade was riding a bicycle to go home. When he went out of the school gate, he saw a friend on the other side of the road. Trying to catch up with him, he started crossing the road without ensuring safety in both directions, and was immediately struck by a passenger car coming from the left.
The student's attention was focused on the friend on the other side of the road, so he failed to observe the basic rule of "when crossing a road, ensure safety in both directions." In addition, the driver of the passenger car knew that there was a school gate, but he assumed that students would ensure safety when coming out of the gate, and so did not use extra caution. The blind walls next to the school gate are high on both sides. It will be necessary for school authorities to teach students to ensure road safety on both sides when going out of the gate and to never jump out onto the road.
One option is, if necessary, to make a safety rule, for example, to walk from the school grounds up to the gate and then, after making sure of safety, ride the bicycle. Another option is to install a wire netting on the upper part of the walls so that the intersecting traffic is visible from the other side of the wall.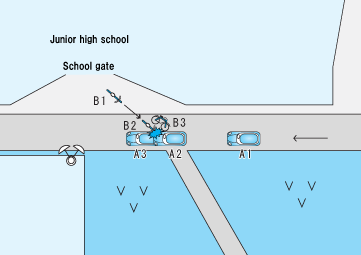 [Case 2] A boy is so absorbed in chatting with friends that he advances into the intersection without stopping first.
A boy in the 8th grade was going home by bicycle with 2 friends riding parallel on the road. When they came to a blind intersection, the other friends stopped temporarily, but he was too absorbed in chatting to stop before entering the intersection. Just then a passenger car driving from the left collided with him.
There is a traffic mirror at the intersection; however, the student was seemingly unaware of the surrounding circumstances because he was absorbed in chatting. Riding bicycles parallel with other bicycles and chatting is very dangerous. It is important that students learn to ride along the left side of the road in line and be mindful of the traffic environment.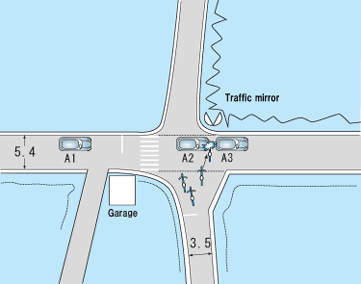 UP