Fatalities from traffic accidents totaled 7,702 in Japan during 2003 - further down from the 8,326 in the preceding year and about half of the peak level recording in the early 1970s. In contrast, traffic accidents totaled 936,721 cases in 2002, slightly down from the preceding year but still remaining on the long-term upward trend. Evident in Figure 1, rear-end collisions have been accounting for a large percentage of accidents classified according to accident type.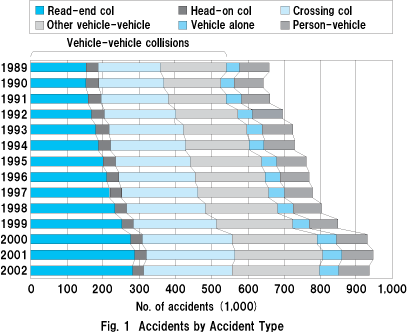 The number of accidents involving a passenger car colliding into the rear-end of another vehicle added up to 747,769 during the eight years between 1992 and 1999 [Figure 2], excluding collisions involving three or more vehicles in an accident. Of the total, a prevalent 71% occurred between passenger cars while accident between a car and a truck accounted for no more than 7%. (In this issue a "passenger car" or "car" means a car larger than a light car or over 660cc displacement, unless otherwise indicated.)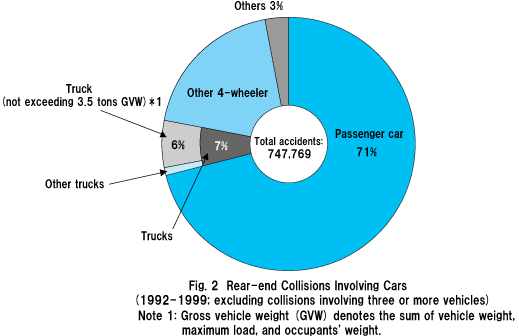 But when focusing on the 248 total fatalities among the occupants (drivers & passengers) of cars that collided into the rear-end of another vehicle during the eight-year period, a dominant 74% were from collision with a truck as compared to only 12% from collision with another passenger car [Figure 3].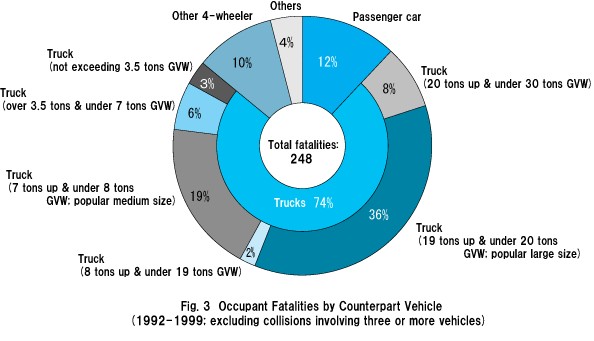 In Figure 4, fatality rates*2 are calculated by dividing the number of car driver fatalities with the total number of car drivers colliding into the rear-end of another vehicle. Apparent from the graph, the fatality rate rises as the size of counterpart vehicle enlarges.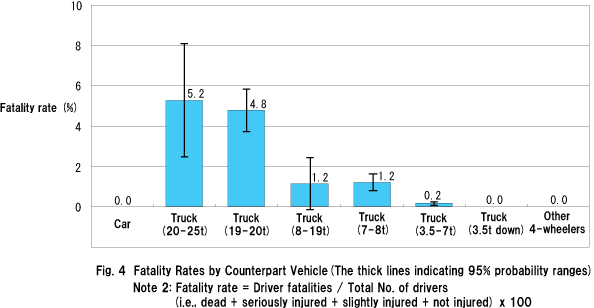 UP